Too Tight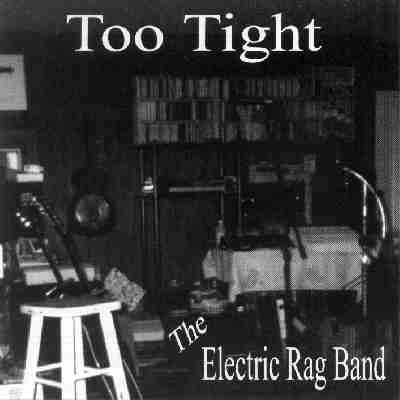 This is a live two track recording make in the spirit of the 20s and 30s. It was digitally recorded and mastered at the Skiatook Room, Skiatook Oklahoma. It is intended to provide the listener with the experience of hearing The Electric Rag Band in a small room. We feel the room sound is more appropriate for our music than the more produced sound that is typical of todays recordings. Cuts 2,3,4,11,13,and 14 are written by Pat Cook. Cut 8 is by Big Taylor. The remainder of the tracks are adaptations based on the following recordings: Too Tight is based on the 1926 and 1929 versions by Blind Blake, Big Boat is based on the 1934 version by Casey Bill Weldon and an earlier 1932 version called Mississippi Blues by Big Bill Broonzy, Blues Around Midnight is from the 1949 version by Blind Willie McTell, The Georgia Rag is based on the 1931 version by Blind Willie McTell and a 1927 song by Blind Blake called the Wabash Rag, Hey Hey Daddy Blues is from the 1927 version by Blind Blake, How Do You Want It Done is from the 1932 version by Big Bill Broonzy, Walkin' My Troubles Away is based on a 1936 Blind Boy Fuller version and a couple of earlier Big Bill Broonzy songs, and the Maple Leaf Rag is by Scott Joplin. We have take considerable liberties with the lyrics and musical content of these songs. We think these guys would have approved. Special thanks to Brit Monk (Big Taylor), of the Rainmakers, for Bang! Bang! Thud! Thud!. Bonus CD cuts Government Farmer and Future Rag by Pat Cook. Back photo by Glenna Kay Eisert. Inside photo by Jason Veale.
Buying options:
Buy it directly from us with Paypal!
No international orders please.

Only 8 Bucks!
Free Download:
More:
"...the phenomenal follow-up to the trio's '96 debut."
- Thomas Conner, Tulsa World
"Cooks sandy voice and respectful-but-still-innovative electric guitar and dobro picking brings the old material into the 1990s without taking it off the back porch."
- Thomas Conner, Tulsa World
"This is my kinda music!!! I love it."
- Doug Carlisle, House Rockin' Blues - WSFM
"The covers are still great, and the originals are rough, raw and tight."
- Smitty Ray Barlow
Copyright 2015 ERB Records